Sugar Bowl Preview: #14 Auburn Tigers vs. #7 Oklahoma Sooners
Of course, this time of the year, the College Football Playoff usually grabs the attention of most. All things considered, the bowl season is still the hub of compelling match-ups.
This year's Sugar Bowl is the source for another enticing contest. Having Auburn (8-4) as an opponent means you have to deal with an uptempo offense built from a power running game. To combat that, Oklahoma (10-2) features an uptempo offensive scheme, only this one is composed of timely passing. Can the Tigers knock off the Big 12 Champion Sooners in SEC country of New Orleans, Louisiana? Here is the complete preview for the Sugar Bowl matchup on January 2nd.
What To Know About Auburn 
The Auburn football program and running the football are synonymous. The Tigers are sixth in the country in run offense and average 278.5 yards per game. Running backs Kamryn Pettway (1,123 yards, seven touchdowns) and Kerryon Johnson (862 yards, 11 TDs) establish the bulk of the run game. Pettway in particular has been highly productive this season. The 240-lb battering ram missed four games and held to just 17 yards in the season finale against Alabama. At quarterback, Sean White (1,644 yard, nine TDs, three INTs) is the best option for the team although he is also just a "game manager". The few times the team wants to resort to passing, receiver Tony Stevens (29 catches, 466 yards, three TDs) is the go-to option. The team relies so much on the run, they have totaled 10 games this season of 40 or more recorded carries. It's worth noting that at times head coach Gus Malzahn will implement backup quarterbacks John Franklin III and Jeremy Johnson. Both are the mobile options for the Auburn offense at QB.
The Auburn defense features two studs up front in defensive end Carl Lawson and defensive tackle Montravius Adams (pictured above). Lawson leads the team in sacks (9.5) and tackles for loss with (13.0) while Adams is a 310-lb freak of an athlete. The unit as a whole only allow 15.6 points per game and is third in red zone defense at a 71% success rate. Junior strong safety Trey Matthews leads the team in tackles with 73 but cornerback Carlton Davis is arguably the most important player in the secondary. Davis is the team's best cover corner and has the ability to be lockdown defender.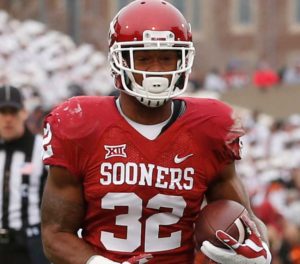 What To Know About Oklahoma 
The offensive talent for the Sooners can compare to most teams in the country. Quarterback Baker Mayfield is 11th in the country in passing yards with 3,669. That total goes along with his career-high of 38 touchdown passes. Thanks to running backs Samaje Perine (974 yards, 11 TDs) and Joe Mixon (1,183 yards, eight TDs), Oklahoma averages 237.5 rushing yards per game. Sprinkle in a game-changer at wide receiver in Dede Westbrook (74/1,465/16) and you have the 3rd ranked scoring offense and total offense. Need an indication on how elite the offense is for Oklahoma? Their lowest yardage total this season was 393 yards in week one against Houston.
Here is where the issue lies for the Sooners. The defense gives up 439.8 yards per game, including 279.0 yards per game on the ground. The Sooners rank 118th in that category and it has been a thorn in their side all season. Inside linebacker Jordan Evans is easily the best player on the unit. Evans leads the team in tackles (89), interceptions (4) and has two pick-6 touchdowns as well. Linebacker Ogbonnia Okoronkwo has 10.5 tackles for loss with a team-leading 9.5 sacks. The secondary, led by safeties Ahmad Parker and Steven Thomas, will be on high-alert with a unorthodox Auburn offense.
Prediction 
There is no question that the front seven for both teams can dictate a lot in this game. It's not a secret that Auburn will be a run-heavy offense. That is their bread-and-better and it does not matter if you are aware of their game plan. It is about stopping it. Auburn has eight games this season of over 200 rushing yards. It's what got the team to the dance.
While Oklahoma has a freight train of an offense, the likes of Lawson and Adams can wreck havoc on a fairly solid Oklahoma offensive line. Linebacker Tre Williams and Deshaun Davis will have their hands full in keeping the Oklahoma backfield from producing big plays.
Luckily for Oklahoma, the Tigers are not dominant in the passing game. However, defending the run can open things up in the passing game. Oklahoma corners Jordan Parker and Jordan Thomas will be on their toes all game. Monitor their activity in run defense.
In this one, Auburn can become one-dimensional really quick. If they do, it will be a long game. Keeping up with an Oklahoma offense on the scoreboard is not what Auburn prefers to do.  I expect the Auburn defense to make a few key stops and gather a couple of turnovers. With about a month to prepare, Oklahoma head coach Bob Stoops had plenty of time to get his team ready. The dynamic offense of Oklahoma with plenty of weapons gets the slight nod in the this one.
Score – Oklahoma 31 Auburn 24