On Sunday night, Orlando is the home of WrestleMania and it will be the ultimate thrill ride. Here are my thoughts as well as my predictions along from my colleagues.
Kickoff matches
The Andre The Giant Memorial Battle Royal
This year is the fourth annual Andre The Giant Memorial Battle Royal. The previous winners were Cesaro, The Big Show, and  Baron Corbin last year. Fans often look down on this match but it elevates talent after they win this contest. My verdict is that Braun Strowman will win this match and continue his momentum and domination.
Brian Waters: Finn Balor
Micheal Pearman: Braun Strowman
Nicolas Wilcox: Strowman winning here makes sense. Hopefully, this sets him up for an opportunity at some gold in the next few months.
SmackDown Women's Championship
This will be a great match featuring the entire women's division of SmackDown Live. Since the WWE draft, the women's division on SmackDown has been better and more entertaining than RAW. Now heading into the match fans will not know what type of match it is. Naomi made her return from her injury which makes it more compelling. Therefore with the return of  Naomi, she will win in her hometown and become a two-time SmackDown Live Women's Champion.
Brian Waters: Naomi
Micheal Pearman: Naomi
Nicolas Wilcox: Naomi should be able to win back the gold she technically never lost.
WWE Cruiserweight Champion
Austin Aries vs Neville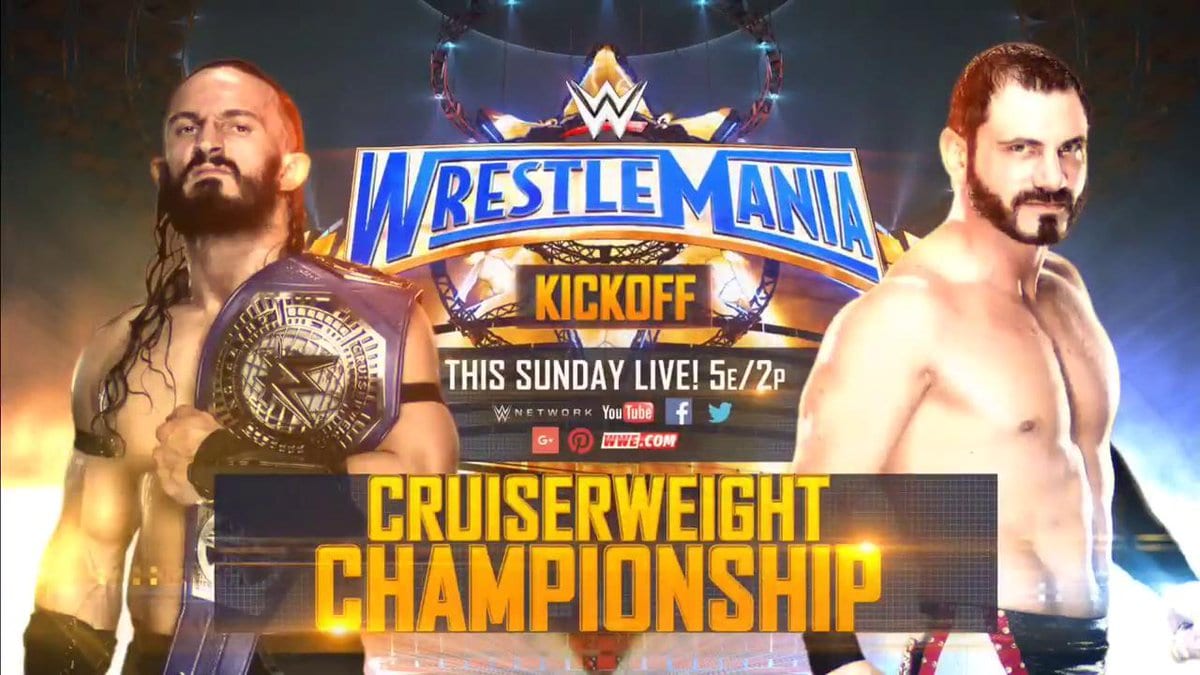 At WrestleMania, Neville will face the hardest test to date as he defends his WWE Cruiserweight Championship against Austin Aries. Since Neville made his shocking return at Roadblock: End of the Line, he has dominated the Cruiserweight division. At the Royal Rumble pay-per-view, he defeated Rich Swann via the Rings of Saturn submission and became becoming the new WWE Cruiserweight Champion. All the Cruiserweights have come for the king but they have all failed.
Austin Aries was on the commentary team for 205 Live as he recovered from a devastating eye injury. A couple of weeks ago during an interview with Neville on Raw, Aries attacked the champion, later he revealed that his eye injury has officially healed. Aries was on a roll after he defeated Tony Nese and Ariya Daivari in his first two matches on 205 Live.
As a result, Aries earned an opportunity to be the number one contender for the WWE Cruiserweight Championship. Aries faced former Cruiserweight Champions TJ Perkins and The Brian Kendrick, as well as Akira Tozawa and Nese, in a Fatal 5-Way elimination match. Aries outlasted the five other Cruiserweights to be crowned the new number one contender for the WWE Cruiserweight Championship.
At WrestleMania, Aries will make an impact in his WrestleMania debut against Neville. My expectations for this match is high because both are excellent workers. Aries will walk out of Orlando the new WWE Cruiserweight Champion and he will take the Cruiserweight division to a whole new level.
Brian Waters: Austin Aries
Micheal Pearman: Austin Aries
Nicolas Wilcox: Austin Aries. He has all the momentum heading into this one. These two should put on a great match.
RAW Tag Team Championship
Ladder Match
Luke Gallows and Karl Anderson vs. Enzo and Big Cass vs. Sheamus and Cesaro

Luke Gallows and Karl Anderson made history in the past as part of New Japan Pro Wrestling. They won the IWGP Tag Team Championship three times. Then they went on to finally captured gold in the WWE. They defeated the former RAW Tag Team Championships Sheamus and Cesaro at the Royal Rumble pay-per-view.
Enzo Amore and Big Cass are still looking to win their first Tag Team Championship. This is going to be a difficult match to predict, it would be nice to see Luke Gallows and Karl Anderson retain their RAW Tag Team Championship. However, Enzo Amore and Big Cass need to win the RAW Tag Team Championship if not now then when. The WWE broke the news that this match is now a ladder match it just adds more excitement.
Brian Waters: Enzo Amore and Big Cass
Micheal Pearman: Enzo Amore and Big Cass
Nicolas Wilcox: Enzo Amore and Big Cass. These guys have been getting over with the crowd for some time now. It only makes sense for these guys to win.
Mixed Tag team match
The Miz and Maryse vs. John Cena and Nikki Bella

This feud started a couple of weeks ago on SmackDown Live in ten men over the top battle royal. The winner would be crowned the new one contender for the WWE Championship. The Miz was irate for getting eliminated by John Cena he decided to return the favor as he eliminated Cena. Then for weeks, both couples battled on the mic and it escalated on a special edition of Miz TV. Maryse took a shot at Nikki Bella and she stated that she would never get a ring from Cena.
In addition, The Miz and Maryse did their own version of Total Bellas they were trolling both Cena and Nikki it was a hilarious and entertaining TV. The Miz and John Cena have a long history together dating back to the main event of WrestleMania 27.
At that time The Miz got the best of Cena and he was crowned the new WWE Champion. This time around it will be different as Cena and Nikki will get revenge and the win. After the match, John Cena will pop the question to Nikki Bella to marry him.
Brian Waters: John Cena and Nikki Bella
Micheal Pearman: John Cena and Nikki Bella
Nicolas Wilcox:  John Cena and Nikki Bella.
Intercontinental Championship
Baron Corbin vs Dean Ambrose

This feud all started back at the Elimination Chamber pay-per-view when Baron Corbin eliminated Ambrose. This caused them to have multiple matches. In addition to the fact, that both would interfere in each other matches. Corbin attacked Dean Ambrose from behind backstage with a pipe then he used a forklift to squash Ambrose.
Corbin called out Ambrose for a shot at the Intercontinental Championship. Last week, Ambrose made his return and hit Corbin with the Dirty Deeds DDT. Ambrose accepted Corbin's challenge for the Intercontinental Championship. It is time for a title change and Corbin needs to win Intercontinental Championship because it's not being elevated currently.
Brian Waters: Baron Corbin
Micheal Pearman: Baron Corbin
Nicolas Wilcox: Baron Corbin. Hopefully, we'll see Ambrose back in the WWE championship picture. He's done a masterful job with the Intercontinental Championship.
Fatal 4-Way Elimination match
WWE RAW Women's Championship
Charlotte, Sasha Banks, Bayley, Nia Jax
This match has the potential to steal show between four women wrestlers. The build up towards this fatal four elimination match has been unique because Charlotte undefeated streak was ended at the Royal Rumble pay-per-view. Bayley achieved this with an assist from the boss when it looks like Bayley was in danger.
Bayley
It is extremely interesting because even though Bayley fights with honor, she always has found ways to win with questionable methods. Sasha Banks has always interfered in Bayley matches to help her retain the RAW Women's Championship.
Sasha Banks
She added herself into the title picture when she defeated Charlotte on RAW. As a result, it forced this match to become a triple threat match. However, that being said Nia Jax has put the entire RAW Women's division on notice.
Nia Jax
She picked up multiple wins with destroying everybody on sight. Jax was added to the equation when she defeated Bayley on RAW to earn her title shot. This will be another difficult match to predict my pick has changed so many times in my head but Sasha Banks will walk out as the new RAW Women's Champion.
Brian Waters: Sasha Banks
Micheal Pearman: Charlotte
Nicolas Wilcox: Charlotte. You can make a case for all four of these women. However, Charlotte has proven that she is the most durable and ready to hold the title again. Jax will get her opportunity down the road but the RAW women's title should go back around the waist of Flair.
United States Championship
Kevin Owens against Chris Jericho

This will be a fantastic match between two friends now turned bitter enemies. It is crazy because Chris Jericho stated that teaming with Owens was supposed to be a short-term plan. However, those plans changed because Owens and Jericho had had incredible chemistry together.
During their allegiance, they both had the WWE United States and the Universal Championships. Jericho and Owens will put on an instant classic that will keep the fans entertain the entire match. Kevin Owens will walk out the new United States Champion because Jericho will need to take time off for Fozzy.
Brian Waters: Owens
Micheal Pearman: Owens
Nicolas Wilcox: Owens. With the rumor of Jericho going back on tour with Fozzy, this is more of a send-off.
Non-Sanctioned Match
Triple H vs. Seth Rollins

Triple H and Seth Rollins have had quite an interesting relationship together. Years ago Triple H selected Seth Rollins to be the man. Rollins did the unthinkable after he back stabbed The Shield in order to join The Authority.
Together they very dominated as Seth Rollins won the WWE Championship on multiple occasions at the time. Unfortunately, Rollins suffered a devastating knee injury back in Ireland. This was a huge setback for Rollins because he missed the biggest WrestleMania of all-time last year in Dallas. Fast forward to this year Seth Rollins seemed to struggle to get his momentum back. Due to the fact when Rollins came back he has pushed aside for Kevin Owens. Due to the fact that Kevin Owens had replaced Rollins as Triple H's new guy.
Fast forward to the night after the Royal Rumble pay-per-view Samoa Joe ambushed Rollins from behind and re-injured his leg and knee. Rollins has been out for months rehabbing his injury. On the latest RAW, Rollins signed a hold harmless agreement for a match at WrestleMania. This means if Rollins gets re-injured at WrestleMania he cannot sue the WWE. Despite all the odds that are against Rollins he will find a way to slay the king.
Brian Waters: Seth Rollins
Micheal Pearman: Seth Rollins
Nicolas Wilcox: Seth Rollins
AJ Styles vs Shane McMahon

This match was speculated for a few months around the internet and it got a lot of negative attention. However, that being said the WWE did a phenomenal job with this intense short build up. AJ Styles was a man on a mission as he was crowned the new one contender for the WWE Championship. All of a sudden Styles had his opportunity stripped. He lost to Orton in a match on SmackDown.
As a result, Styles snapped which lead to a confrontation backstage with Shane. The following week he assaulted Shane in the parking lot. He sent a message to Shane as he smashed his head through a car window. He refused to get medical attention. At the end of the night, he made a match with Styles at WrestleMania. The following week Shane got his revenge on Styles as he delivered a top rope elbow through the announcer's table.
Despite all the negativity towards this match, it will deliver on all levels. Styles will prove why he is phenomenal and make Shane look like a million dollars. The Phenomenal One will pick up his first WrestleMania win.
Brian Waters: AJ Styles
Micheal Pearman: AJ Styles
Nicolas Wilcox: AJ Styles At first glance I thought that Styles deserved better. Maybe Shane doesn't have it anymore. However, he's still got it.  He should make Styles look great for his first Wrestlemania win.
WWE Universal Championship
Brock Lesnar vs. Goldberg

The WWE has done an excellent job will the build up of this feud. Goldberg made his shocking return back to the WWE for the release of WWE 2K17. He has had a long rivalry with Brock Lesnar, as it dated back to their first encounter on the big stage at WrestleMania XX back in 2004. Goldberg won the first match but it was considered one of the worst matches ever in WrestleMania history.
Goldberg return
The second match happened at the Survivor Series pay-per-view. This would mark Goldberg's return to the ring after 12 years. Goldberg shocked the world and made quick work of Brock Lesnar in a 1:26. It was clear that Goldberg has Lesnar's number as he was 2-0 against him.
WrestleMania 33
This will be a quick match with Lesnar absolutely destroying Goldberg in 2 minutes or less. Lesnar will take Goldberg to Suplex City and he will hit him with multiple F5's. Lesnar will be crowned the new WWE Universal Champion and it will be the last stage for Goldberg on his farewell tour.
Brian Waters: Lesnar
Micheal Pearman: Lesnar
Nicolas Wilcox: Brock Lesnar. If this match is won by Goldberg the way Survivor Series was, Orlando is going to riot. Hopefully, we get at least a 10-minute match. Lesnar not only needs to just win but dominate.
WWE Championship
Bray Wyatt vs. Randy Orton

This will be a fantastic match and one of the few matches that which has my interest at a very high level. Ever since Orton aligned himself with the Wyatt family they have dominated the WWE. Orton and Bray Wyatt became the new SmackDown Live Tag Team Champions at the TLC pay-per-view.
Survivor Series
Then at the Survivor Series pay-per-view, Wyatt and Orton were the sole survivors for team SmackDown Live against Team RAW. The momentum continued for the Wyatt Family as Randy Orton was the 2017 Royal Rumble winner.
Elimination Chamber
At the Elimination Chamber pay-per-view, Wyatt defeated John Cena, AJ Styles, The Miz, Dean Ambrose and Baron Corbin in an Elimination Chamber match. Wyatt finally achieved his dream and he became WWE Championship for the first time.
First Title defense
Wyatt retained his WWE Championship against John Cena and AJ Styles in a triple threat match. Leading up to WrestleMania Orton pledged his allegiance to Wyatt and he refused to face him at WrestleMania. Orton loyalty didn't last that long as he burned down and destroyed the Wyatt Family compound.
WrestleMania 33
He made it clear to Wyatt that he is coming for his WWE Championship. Wyatt stated that even though Sister Abigail was burned to the ground her spirit lives within him.The outcome of this match is a coin flip it could go either way Randy Orton could easily win this match. However, a loss would kill Bray Wyatt's momentum and who knows if he can ever recover. Wyatt should leave as the WWE Champion, but the Viper will be crowned as the new WWE Champion.
Brian Waters: Orton
Micheal Pearman: Wyatt
Nicolas Wilcox: Wyatt. If this rivalry ends at WM, I'm going to be sad. However, hopefully, it doesn't. The loser of this may lose a bit of steam. Over the next few months, they should still be fighting over the gold.
The Undertaker vs Roman Reigns

This will be a compelling match-up between The Undertaker and Roman Reigns, a passing of the torch moment. They had a couple of confrontation's first The Undertaker connected with a Chokeslam to Reigns. The Undertaker continued to play mind games with Reigns the next couple of weeks. He had the last laugh on Taker as he was laid out multiple times.
Reigns have been pushed hard as a good guy now for two or three years but it hasn't worked. Even though Reigns constantly gets a strong reaction but it, in the end, it turns out to be negative reactions. This is a perfect opportunity to finally turn Reigns into a bad guy. He will get booed out of the building against The Undertaker. Therefore a win for Reigns would make logical sense and add more fuel to the hate.
Brian Waters: Reigns
Micheal Pearman: Reigns
Nicolas Wilcox: Reigns
Follow all of us on Twitter @Nino_416, @Nick_Wilcox25, @MikeKnoxxx, @brianhwaters
All the photos were provided courtesy of the WWE